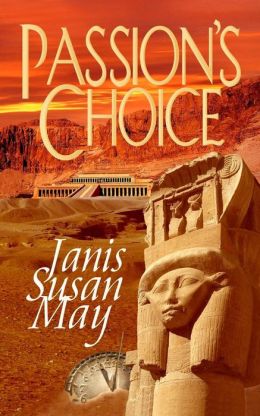 When she accompanied her aunt on a tour to Egypt, Elissa McLaughlin expected only a week of sun, sand and ancient monuments. She certainly did not expect to find herself back in the dangerously tumultuous time of the woman Pharaoh Hatshepsut, nor to be regarded as a pleasure woman by a handsome general, and most certainly not to be flung into the center of political intrigue simply because she has an astonishing resemblance to the pharaoh's daughter.
At first Elissa's only thought is to get back to her own time, but as her attachments to the general and the pharaoh and the land of Egypt itself grow she is torn between the life she knew so far in the future and the life and love she is finding there. As the country erupts into chaos with the invasion of Thutmosis III in his attempt to take over the throne he regards as rightfully his, Elissa and her love are caught between the warring factions. To save their lives she is forced to make Passion's Choice.
Purchase Links:
​Excerpt :
​

"As to the first part of your question, blonde one, I don't know," he answered with casual disdain. "Moises found you lying on the ground. Weren't you told it's inadvisable to wander around here alone? As to the second part of your question, we are the only ones who are supposed to be here. I am not accustomed to an audience."
What the devil was he talking about?
Elissa stole another veiled glance at him. He was seated behind the table, but the area was so shadowy Elissa could do no more than get an impression of bigness, a vague handsomeness, relative youth.
Shadowy? At the height of a brilliantly blistering day? Surely the fabric roof wouldn't be enough to keep out all the light! The tent flap was partially open, but through it only darkness was visible. Was it night?
It had been early afternoon when she fell – she had fallen, hadn't she? Elissa's mind was still distressingly hazy on those last few seconds before the darkness. Yet it was dark now; surely they hadn't just let her stay here with out leaving any sort of a message or doing anything... Aunt Suzy wouldn't let them!
Not
, a dark part of Elissa's mind added grimly, if she were able.
A native caution awoke in Elissa. Before the trip her constantly timid mother had lectured her repeatedly about the danger of going to the Middle East and putting herself within easy reach of all kinds of white slavers and terrorists and such. Of course Elissa had laughed, but now it didn't seem so funny.
"Where's my aunt? Her name's Suzy McLaughlin..."
Where was Suzy? Had she fallen too, been hurt and in the confusion of getting her aid had Elissa been forgotten and left behind? Surely someone would remember that there had been a young American woman in a white dress with her? Surely they couldn't all forget her! For a moment it was all Elissa could do not to succumb to blind panic.
"I would like to see my aunt. Now, please!"
"And I said I do not care for an audience, my reluctant blonde one!" The man's voice was still gentle, but the humor had faded and there was steel beneath the softness. Moving like a cat, he rose from the stool and walked to the side of her bed, full into the lamp's faint spill of light.
Elissa gasped. Even though the voice had unquestionably been a man's, she hadn't thought that he would be so very masculine, nor so very attractive! In spite of everything, her treacherous body reacted with a shiver of pure appreciation. All her resolutions about remaining cool and detached evaporated as an uncontrollable backfire of sensual fantasy ran through her body.
Tall and leanly muscular, he just might have been the most handsome man she had ever seen. Three parallel scars ran across his smooth, suntanned chest like silver ribbons. His hair was pale brown and cropped short, lying on his well-shaped head in a cluster of soft curls. Green eyes the color of a calm sea looked out appreciatively from an exceptionally handsome face.
If he had looked angry, his long, roughhewn features could have been forbidding; even when he was smiling, the determined glitter in his eyes made Elissa definitely uncomfortable.
That wasn't all. Somehow Elissa had expected him to be dark, but he wasn't. His arms and shoulders and legs were burnished to a rich coppery color by the sun, but where the sun never touched his skin was the pale color of cream.
There wasn't any question about it, because he was completely nude.
​Author Bio
Janis Susan May is a seventh-generation Texan and a third-generation wordsmith who writes mysteries as Janis Patterson, romances and other things as Janis Susan May, children's books as Janis Susan Patterson and scholarly works as J.S.M. Patterson.
Formerly an actress and singer, a talent agent and Supervisor of Accessioning for a bio-genetic DNA testing lab, Janis has also been editor-in-chief of two multi-magazine publishing groups. She founded and was the original editor of The Newsletter of the North Texas Chapter of the American Research Center in Egypt, which for the nine years of her reign was the international organization's only monthly publication. Long interested in Egyptology, she was one of the founders of the North Texas chapter and was the closing speaker for the ARCE International Conference in Boston in 2005.
Janis married for the first time when most of her contemporaries were becoming grandmothers. Her husband, a handsome Navy Captain several years younger than she, even proposed in a moonlit garden in Egypt. Janis and her husband live in Texas with an assortment of rescued furbabies.
​Connect with Janis on the web:
LinkedIn - Janis Susan May